Dear friend,
If you'd like to grow beautiful and healthy house plants while being the envy of your friends and neighbors this will be one of the most important messages you'll ever read.
Now you can get answers to practically any house plant question you have in seconds.
"Will it grow well in my home?" you ask when you hear about a tempting new plant.


"How do I grow it?" you ask when a neighbor gives you a house plant you have never heard of.


"How can I get it to bloom?" you ask when a healthy plant produces no buds.


"What's wrong?" you ask when one of your indoor plants suddenly goes limp.
Introducing "1001 Answers to House Plant Questions"
Here for the first time is specific information on 258 of the most popular houseplants - from ableia to zephyr lily. Plus, all the basic questions you have about culture and propagation for every type of indoor plant.
It doesn't matter if you're a casual or fanatic indoor gardener, whether you've got a black thumb or an expert with a green one – with this single resource you'll have answers right at your fingertips – anytime you need them.
Here's How This Easy Reference Guide Works….
Let's say you want to know how to care for your African Violet.
No problem.
All you have to do is type in "African Violet" into the simple search box and PRESTO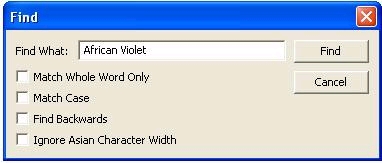 Out comes every question about African violets answered for you:


Easy, right?
That's the power of having "1001 Answers to House Plant Questions" on your computer. You see, instead of compiling everything into a thick book that'll probably just gather dust on your shelf we've put everything in an electronic reference work that you can quickly and easily search for exactly
what you need.
Anytime you've got a house plant question – this guide has the answer.
What's more, you can download this resource instantly and it works on both MAC and PC computers. You'll have answers to almost any house plant question in less than 3 minutes. This way there's no waiting around for the postman to come with your box and no bothering with driving to a store.
If you'd like to put this resource to use now just click here to order. Or if you'd like to learn more just keep reading…
Now anyone can become an expert indoor gardener – it's easy!
"This is wonderful! Anytime I have a question about a new house plant I pick-up or one of my current ones that needs a little help - I know exactly where to turn. You've made it so easy to get the answers I need anytime."
-Ellice April Chicago, IL
Start off with answers to the most important parts of indoor gardening like soil, containers, potting methods, watering, fertilizer, light requirements, atmospheric environment, pruning, insects and diseases, rest periods, propagating, bulb forcing, terrariums and dish gardens. Then you get specific house plant questions answersed.
Here Are Just a Few of the 1001 Questions You Can Have Answers To Instantly Inside This Amazing Resource:
Q: What is the best container for house plants?
Q: What hanging containers are recommended for indoor use?
Q: How do you keep wooden tubs and window boxes from rotting out?
Q: What is the best way to make a window sill wide enough to hold potted plants?
Q: When should house plants be repotted?
Q: How can I stop an infestation of white flies?
Q: How often should I water my house plants?
Q: Will my window box geraniums go on blooming indoors?
Q: How often should I water begonias?
Q: Why does my philodendron grow so thin and straggly?
Q: How can I increase humidity in my living room?
Q: Why did the buds on my gardenia turn black?

That's just the tip of the iceberg because you'll also get answers to these important questions:

Q: What soil should I use for gloxinias?
Q: How do I get rid of mealybugs on cacti and scale on ferns?
Q: Can I get my poinsettia to bloom next Christmas?
Q: Which spring bulbs can be forced for indoor bloom?
Q: How warm must my house be for orchids?
Q: What makes the foliage of some of my plants turn yellow?
Q: The leaves of my geraniums are pale and yellowish, and some have bronzy speckles. What is causing this?
Q: What is the best time of day to water house plants?
Q: Which are the best windows for house plants?
Q: What is the easiest way to raise house humidity for plants that require a lot?
Q: How do you prevent young plants from getting tall and scraggly?
Q: What gets rid of the small, whitish, hard lumps on the leaves and stems of my house plants
Q: How should I handle house plants during rest periods?
Q: How should I take care of house plants when I go on vacation?
Q: When is the best time to root house-plant cuttings?
Q: What is the pot-in-pot method of propagating house plants?
And all of this is still just a tiny fraction of the information inside "1001 House Plant Questions Answered". At a glance you'll know "every trick in the book" to:
Want a FREE Sneak Preview?
Just give us your name and email address and you'll get several of the most important house plant questions answered from "1001 House Plant Questions Answered". It's totally free but only for a limited time.
You will receive your first batch of questions and answers in a matter of seconds. And then each day for the next several days we'll send you new questions and answers you can use to have happy and healthy house plants. Plus, you'll also get additional tips and resources.
* Your information will not be sold or disclosed to anyone.
We respect your privacy *
At Last, Here's The Most Comprehensive Reference
Resource For Healthy House Plants
As you can see there's so much useful knowledge in here -- you'll be referencing this work over and over again every year.
Just count up the value here. If you were going to try to find the same information elsewhere it would take several volumes of different books and you still probably wouldn't have everything here. That would easily set you back hundreds and the books would just gather dust. However, this entire resource guide conveniently available for you day and night is only $14.95 (This price will go up after our introductory Internet offer is over.)
And the best part is it's available to you right now as an instant download! As soon as you place your order through our totally secure server you'll have immediate access without delay. (But don't worry, downloading "1001 Answers to House Plant Questions" is very simple. Even if you're a bit of a computer phobic you'll have no problem.)
"What a great E-book!

"I love 1001 House Plant Questions Answered!

"As you know my area of expertise is landscape plants, and landscape gardening. But I often get asked questions about house plants, and to be perfectly honest I can not answer them. I just don't have the knowledge with non-hardy plants, and I don't like not being able to help my readers.

"1001 House Plant Questions Answered is the answer! It is written in such an easy to read style that even inexperienced growers will be able to solve their house plant problems. I can't think of anything that has to do with house plants that is not covered in this book.

"I have printed this book and will keep it at my finger tips. I know that I will be using it on a regular basis.

"Anybody that has house plants should have this book!"

-Mike McGroarty
http://www.freeplants.com
"I have been able to find out many, many things I didn't know before about house plants. I have a Christmas cactus that has already bloomed three times this year."
- Lorraine Fraser, Vancouver, Canada
Wait - there's still more because you'll also get…
3 FREE Bonuses For Ordering By Midnight

Since I know it's 100% to your benefit to act right away, I want to sweeten the pot and give you every possible reason to say YES today! If you respond immediately, you'll also receive the following:
Bonus #1:
"What to Plant Where" You'll get a special report telling which house plants to grow in North, South, East and West windows, and which plants must be grown in quite cool temperatures. It's the perfect "cheat sheet" for any house plant.
Bonus #2:
"Flowers for Every Month of the Year!" How would you like to have beautiful and colorful flowers blooming every month of the year in your house? You can if you pick the right plants and start them at the right time. Your second exclusive report gives you this insider information to fill your house with fresh flowers 365 days out of the year.
Bonus #3:
Special report: "What to plant for Specific Reasons." This exclusive report is filled with practical lists for fine foliage plants, fragrant plants for indoors, fruiting plants for the home, hanging plants and even plants that take care of themselves.
And if all of that wasn't enough, here's something else…
You Can't Lose With Our 100%, Ironclad,
"Better-Than-Risk-Free" Money Back Guarantee
I say "better-than-risk-free" because each of the 3 bonuses are yours to keep even in the unlikely event you decide to return "1001 House Plant Questions Answered".
I know you'll find this resource absolutely indispensable for all your house plant questions and concerns – but I understand you still might be skeptical. That's why, I ask you to see for yourself and try everything entirely at my risk.
What I'm saying is, don't decide now if this product is for you. Just get it and try it out. I promise this information is unlike anything you'll find in those generic house plant books. However, if for any reason (or no reason at all) you're unhappy or dissatisfied with this information you can get every dime of your money back under our no-loopholes guarantee. No questions asked, no hard feelings and no hoops to jump through.
So you have nothing to lose and everything to gain.
Is that fair or what?
Go ahead and grab this invaluable resource that beginner and expert indoor gardeners turn to when they're baffled. Your house plants will thank you. Pretty soon your friends and neighbors will think you're an indoor gardening genius and start asking your advice!
Click here to order right now (even if it's 3:00 am in the morning).
Sincerely,

Yanik Silver,
Publisher "1001 House Plant Questions Answered"
P.S. The Internet introductory price of $14.95 is during our market test. After it's over the price will go up and you'll miss out on the chance to grab "1001 Answers to House Plant Questions" for the lowest price it will ever be offered for. Click here to get the biggest savings on this resource right now plus the 3 extra bonus reports.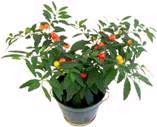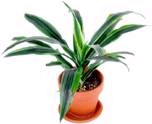 If you need help please email: support@houseplantsecrets.com
© 2003 - 2008 House Plant Secrets. 10832 Brewer House Rd, N. Bethesda, MD 20852